Discussion Starter
·
#1
·
A lot of people are finally starting to realise the importance of wearing Hi Vis gear.
These are the reasons I wear my high vis belt:
Obviously, I like to be seen better by other road users!!!
Not only at night, where especially from the rear all that can be seen is our small little tail light.
It is almost more important during the day, when the daylight almost drowns out our headlights.
In the fog, or even worse during the early or late periods of the day when the sun is low, and glare becomes an issue!
As well as that, it is often quite difficult to judge the speed, distance, and sometimes even direction of a vehicle at night on their headlights alone. Especially when they only have one! My High vis belt helps them to do this better, and therefore plan their actions better.
In the event of an accident, it stops the other involved parties trying to use the 'I didn't see you' argument.
In certain cases, it has been known for bikers to loose a claim because they were deemed not visible enough.
It demonstrates to road users, as well as police that you are a mature and sensible rider. I find that I am far less likely to get harrassed or pulled over when wearing my belt. Obviously it doesn't constitute an excuse to behave foolishly, but it does help. As a biker, I also have far more respect for any other biker wearing a high vis jacket.
In the event of becoming seperated from my bike at night, be it in a crash, or if I break down and need to dismount, it is of paramount importance at night!!! THere is a reason workmen wear high vis jackets when they work on the roadside, day or night!
Personally, I would like to get a Day-Glo jacket like this: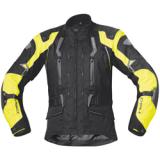 But for now, I have settled for an Oxford H-Belt:
It is relatively stylish, but more importantly it doesn't get in the way!
I even wear it around college, as most the time I don't have a bag or anything to put it in.
People rarely comment on it, nor do they stare. It just looks, 'right'.
A friend of mine got a Think Bike high vis jacket for free from his college as part of a safer rider scheme they are running!
Get one now!