Discussion Starter
·
#1
·
Originally by Aaron_R125:
First of all, make sure you know how to take your fairings off and put them back on again. You'll pretty much need to dis-assemble the entire right side of the bike. But you can cut some corners here and there with that - you decide.
You will require:
A Hex-headed Screwdriver or Allen Key.
Phillips Head Screwdriver
Ratchet + Extension
13mm Socket
12mm Socket
Any other tools dependant no the system you are installing; i'd recommend having a 12mm and 13mm spanner to hand.
Note below. Two 12mm nuts on the header - remove to free the collar and the header. Remove the air valve clip and pipe from the exhaust header pipe. You'll see I don't have one in my picture because i removed it and blanked it off with a bolt and jubilee clip.
Note below. One 13mm nut on the black bracket connecting to the exhaust hanger. Remove.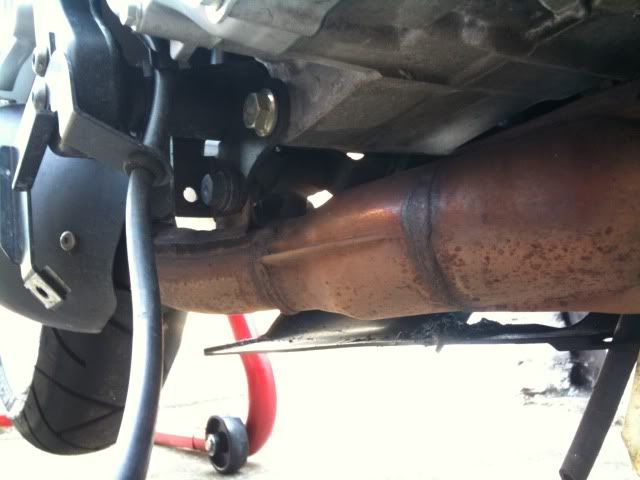 Note below. One 12mm nut on the hanger. Remove.
Well done. You've now removed the standard exhaust system - be careful, it weighs 5.8kg's don't you know. Fitting is the same as reverse...
Note below. Fit header and collar to engine and place nuts on. Don't tighten them up yet. Leave it with some play in it.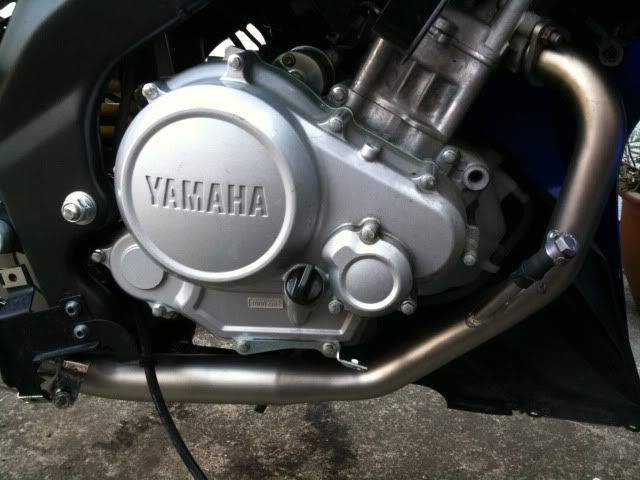 Note below. Fit cone(with the mounting bracket attached) onto pipe and mount the 12mm bolt through the hanger. You should get a nut, maybe a 12mm one, to secure on the rear. Tighten the clamp at the cone's end to the pipe. The mounting bracket should be on the swing-arm side of the hanger - not as pictured.
Adjust the cone's position on the hanger so that it looks straight and flush and then tighten up the header, and then the hanger mount.
Job is done. Stand back and fire her up.
​
Tightening torque for the exhaust system is 20Nm (exhaust studs, the hanger bolt underneath, and the footpeg bolt), so a nice easy one, set once and click away.
​