Discussion Starter
·
#1
·
So here is my attempt at a "How To" guide, terminology may not be correct but I'll try my best, Benji feel free to amend as necessary. Obviously for anyone undertaking this, the workshop manual should remain your main reference manual.
So ..Badger tuning turned up on Saturday morning to fit the kit, I already had removed the fairings (much appreciated).
So, first thing is to remove the petrol tank cover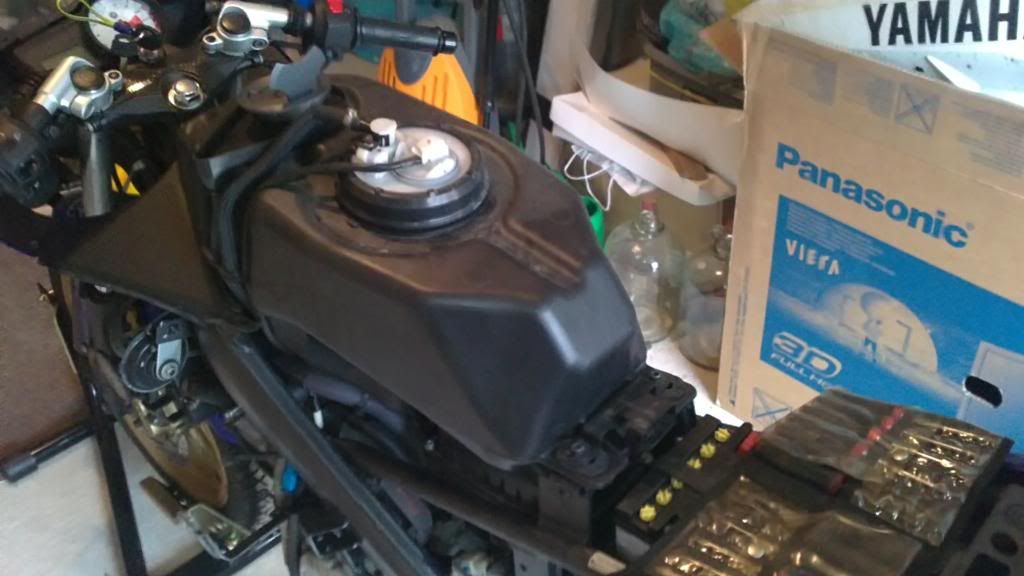 Bolts are located here and one at the front for removal of the tank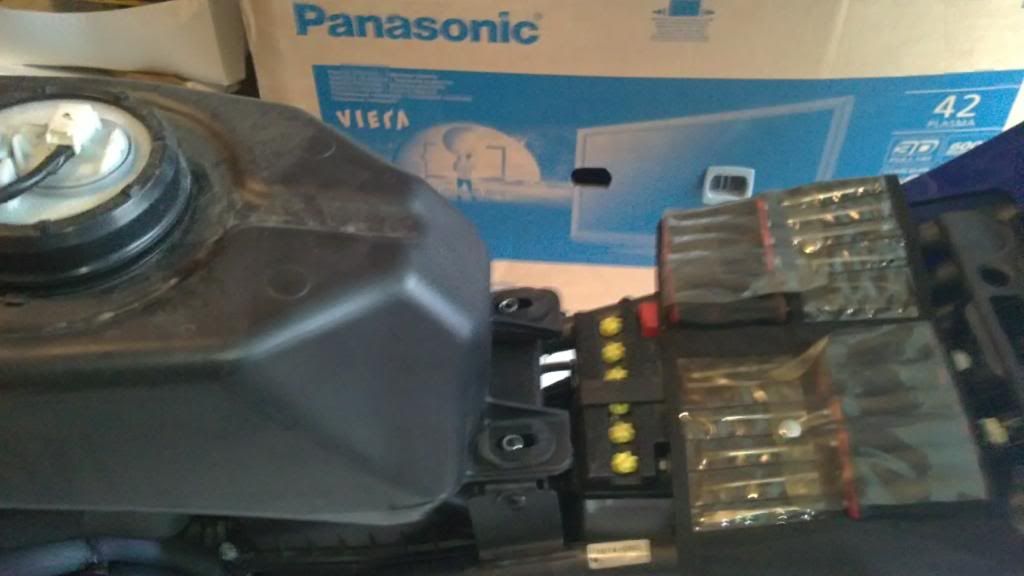 Remove fuel line from tank
Fuel tank can now be removed.
Next, unscrew the air box and remove air filter
Clean inside of air box to remove any oil or water residue (there should be none if you have popped off the clip and the cap at the base of the airbox on a regular basis).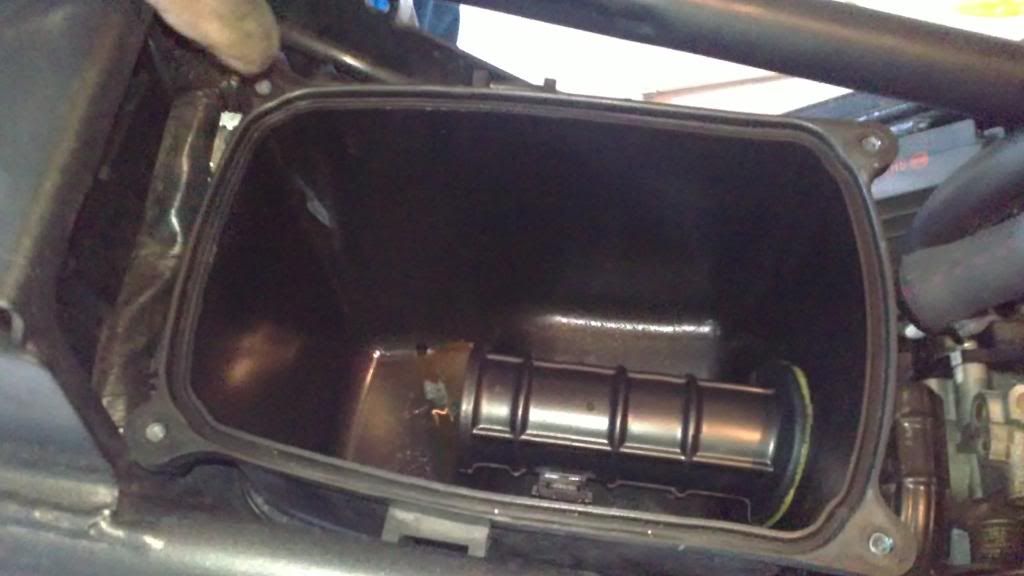 Now remove the exhaust manifold bolts
After removing the remaining bolts the exhaust system can be removed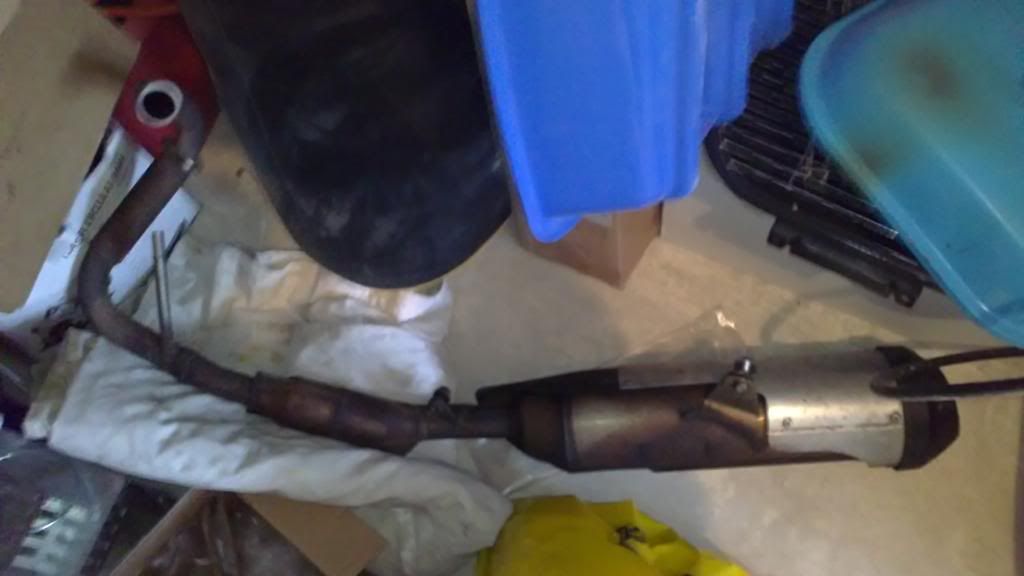 Remove air tubing and install a set of Benji's finest air bungs....MORE POWER!!!
Now begin to unclip wiring harnesses from throttle body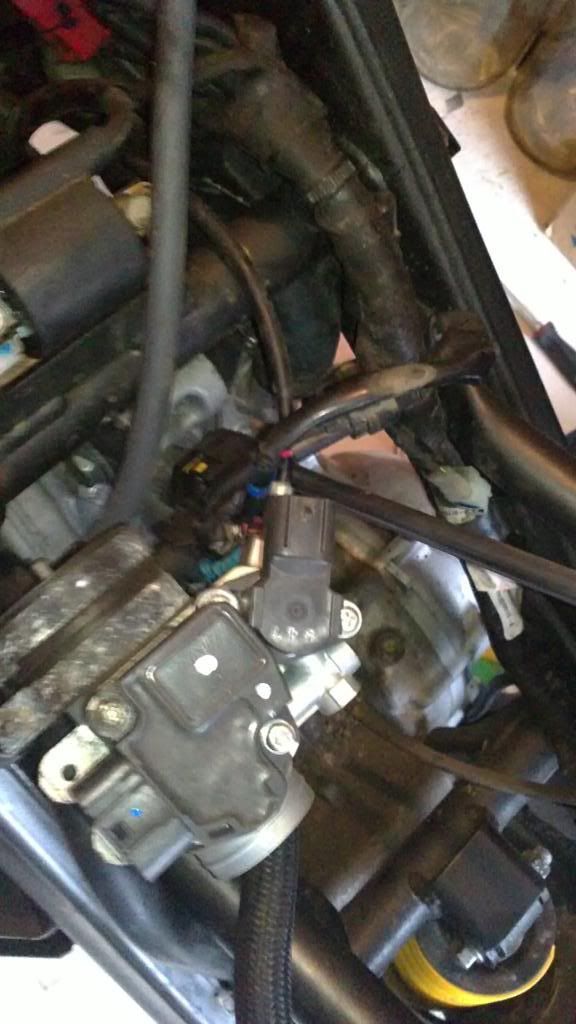 Now remove fuel injector from throttle body (optionally the injector will unclip from the loom a few cms up the wiring from the injector)
Throttle body can now be fully removed, ensure all cables have been detached from the engine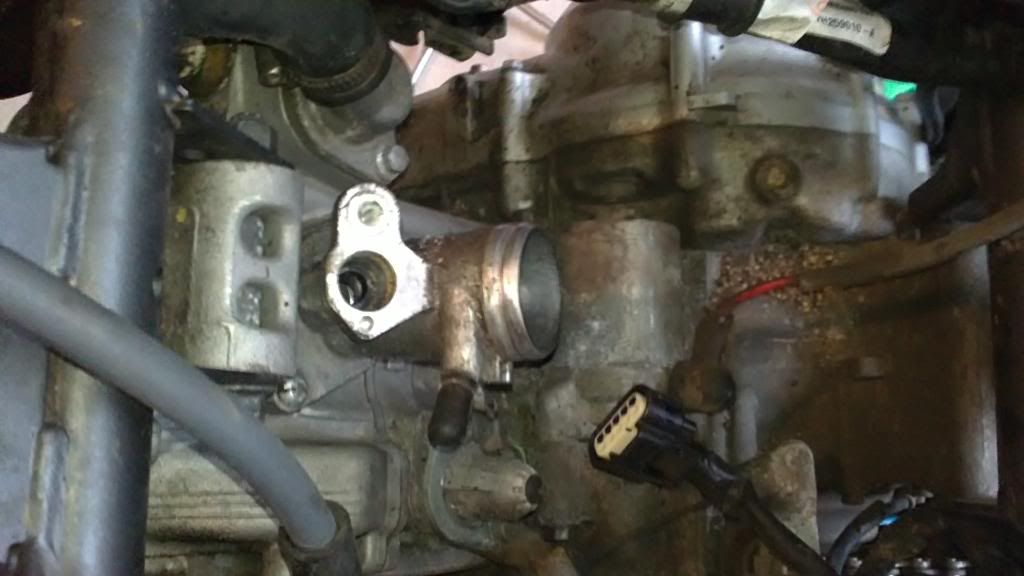 Now remove the radiator
Empty contents to disposal vessel (dispose of coolant down a main drain, as it is toxic to animals)
Now remove coolant expansion tank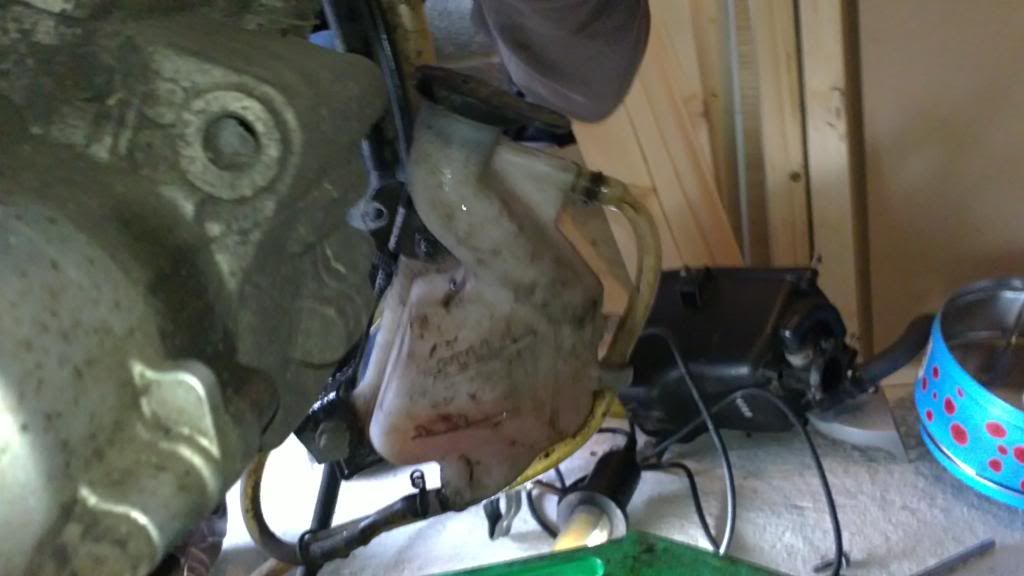 Now remove chain from front sprocket, loosen rear wheel to ensure enough slack is available.
Now remove all engine mountings, place trolley jack underneath to support engine weight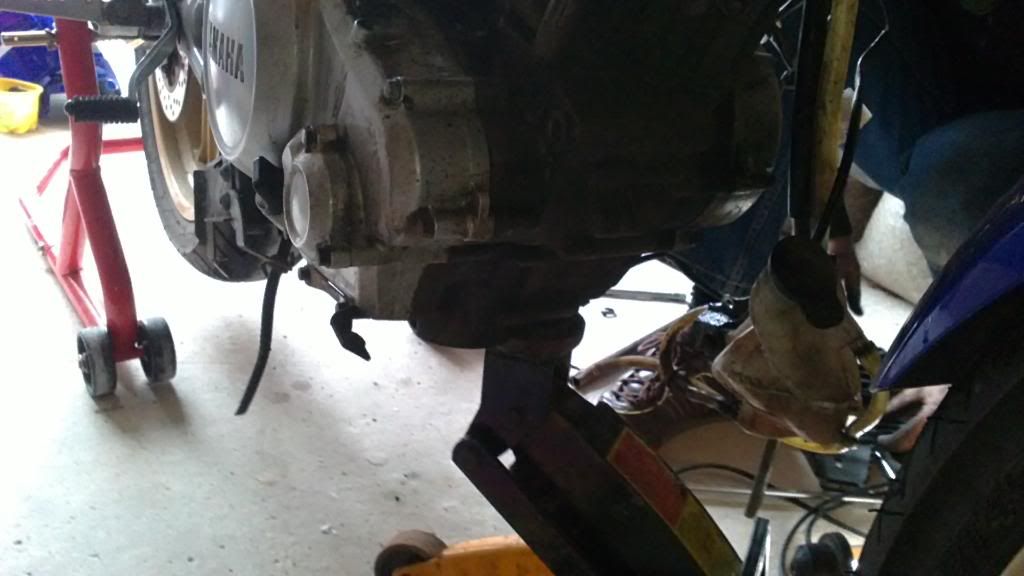 Now trick unsuspecting 38 year old into carrying engine to a suitable place to be worked upon, support with wooden block to keep engine upright. (Because the youngster looked tired from impersonating a japanese tourist)
Now remove rocker/camshaft cover
Remover water pump, shown with green dot
Reveal cam shaft and cam chain
Turn crankshaft to find timing markers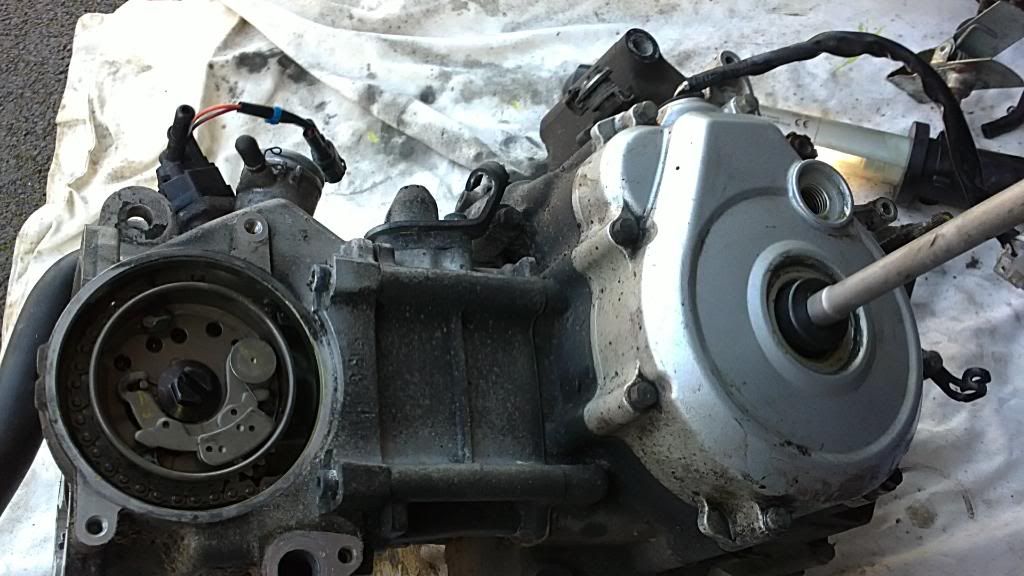 Line marker on cam sprocket should be between external markers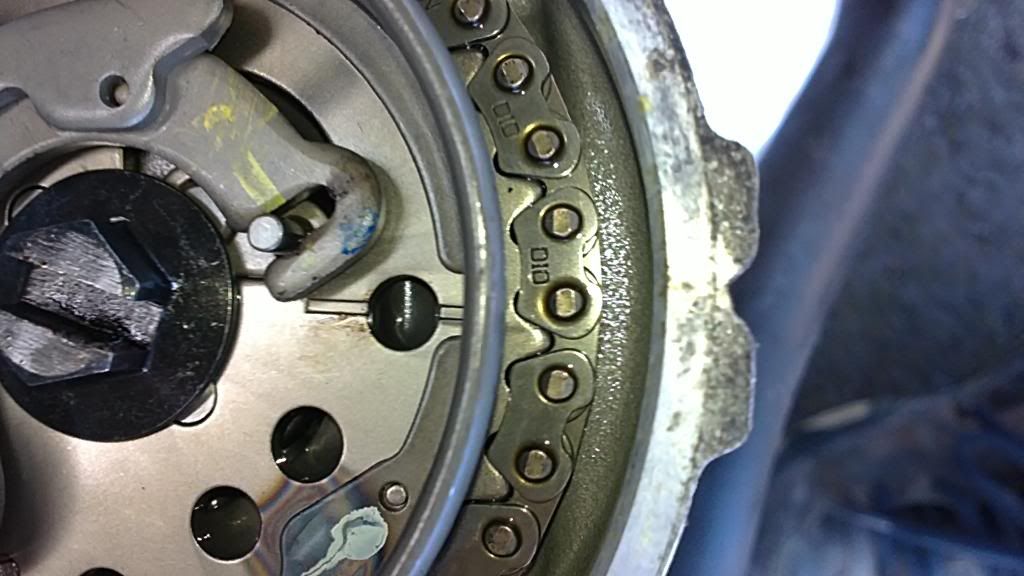 Line markers should be visible within crank case window
Paint marker to help ensure that correct timing is maintained following cylinder replacement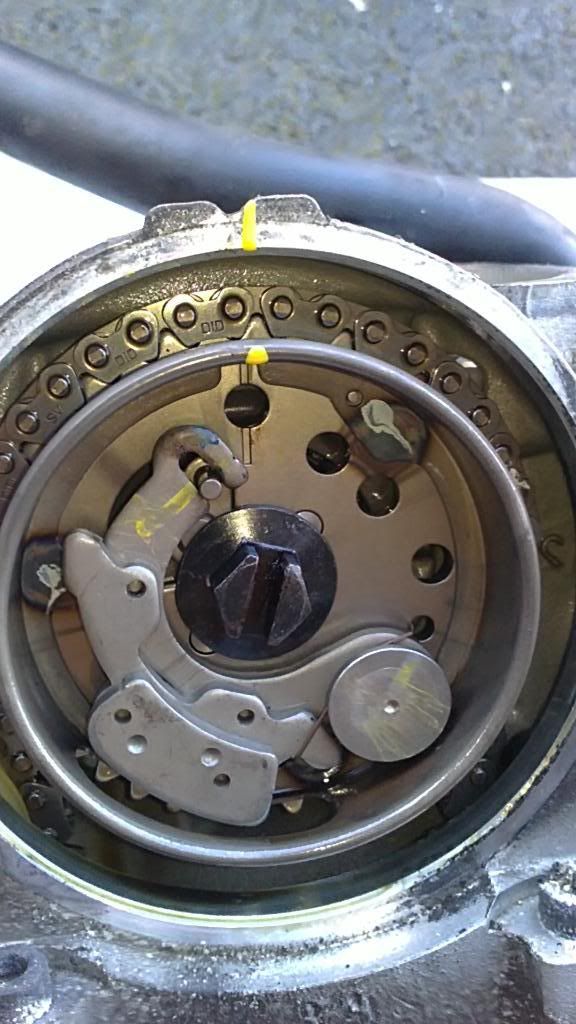 Remove rubber bung from the camchain tensioner, then wind back the tensioner, then remove tensioner.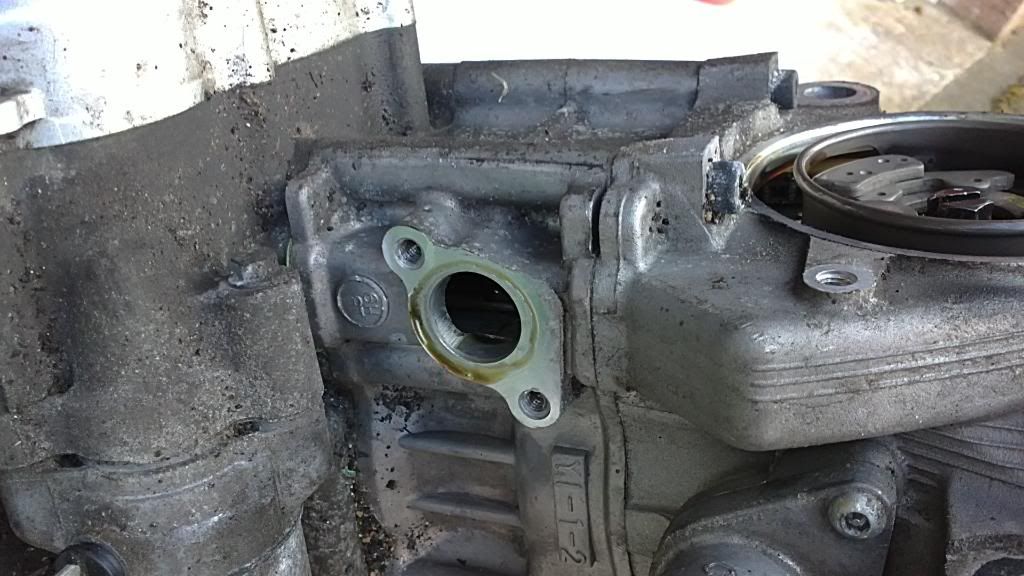 Remove chain from sprocket and keep tension to ensure chain remains attached to bottom sprocket, use garden wire to ensure tension remains constant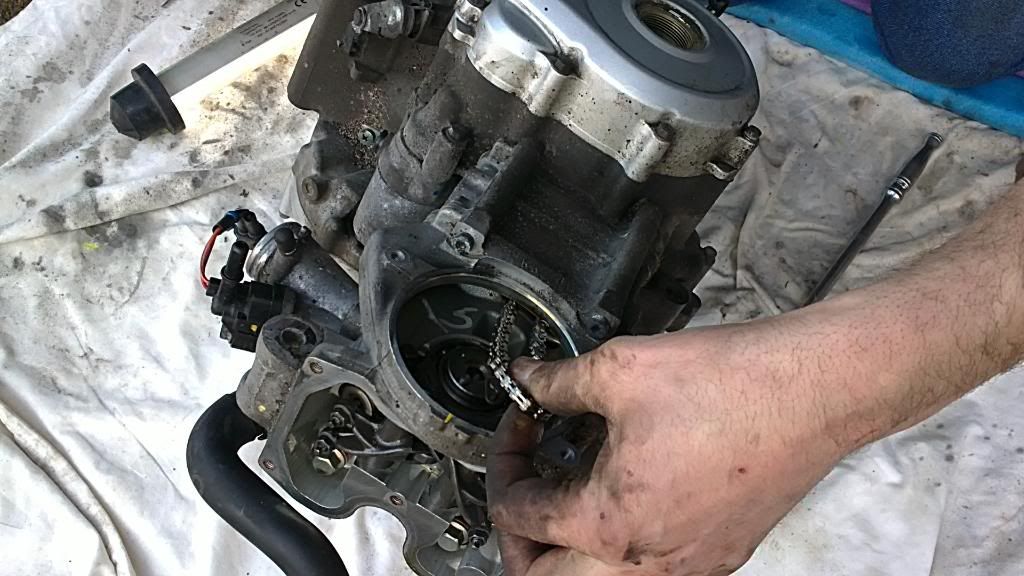 Now remove cylinder head bolts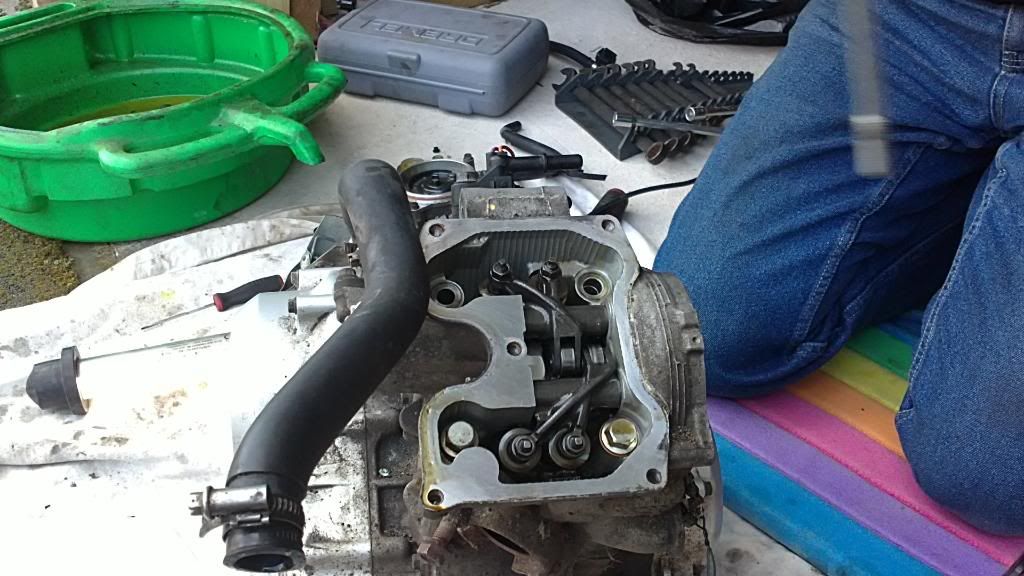 Remove cylinder head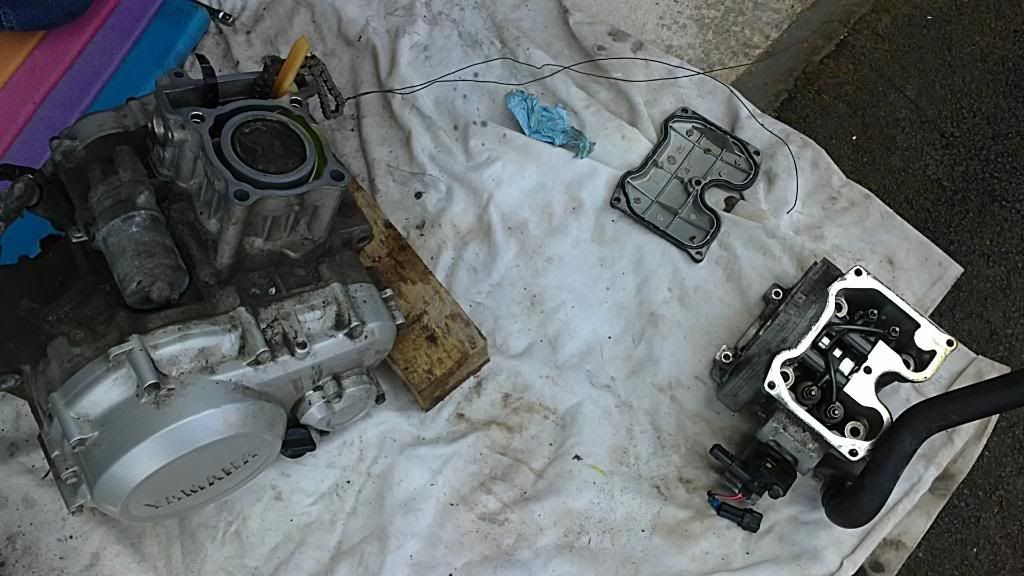 Note carbon deposits as a result of using supermarket fuel on piston head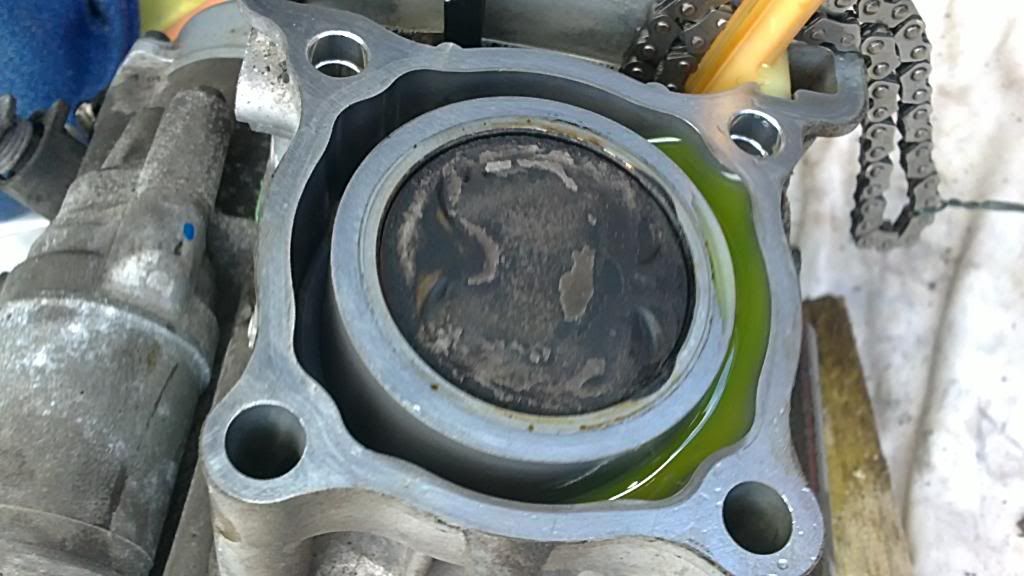 Note cam chain plastic guide rail, and the locating tab that it hangs on.
Insert roll into cylinder to ensure debris does not fall in when removing base gasket or when removing/inserting wrist clip pins.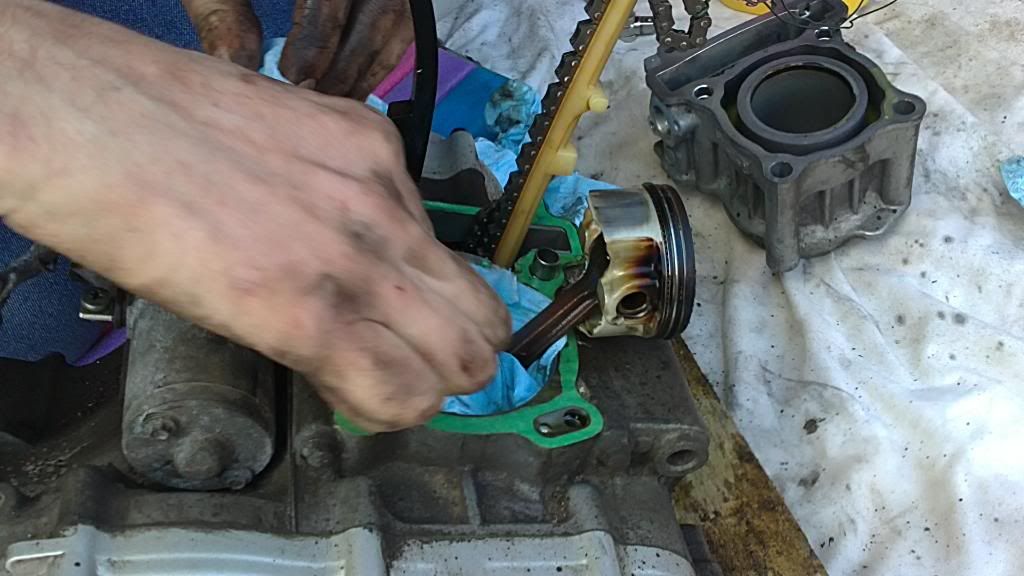 Remove base gasket (green)..takes ages scraping off with razor's
Use wet and dry paper (600 grit) to smooth the surface to ensure the gasket has a smooth and even surface to seal to correctly (no leaks)
Remove wrist pin from cylinder in order to remove piston head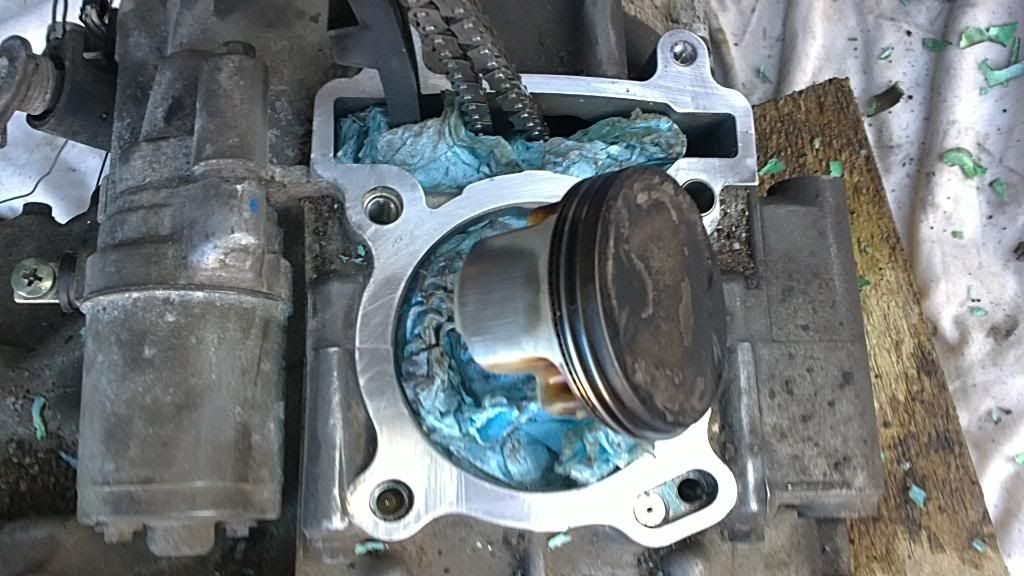 Remove piston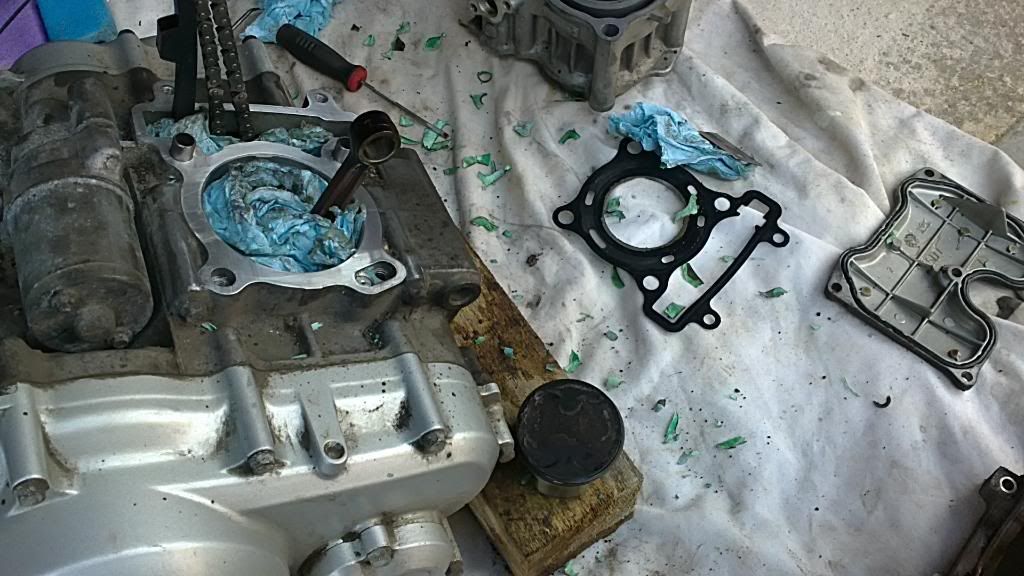 Note difference in size between 182cc & 125cc cylinder
Note cylinder honing (light scoring), honing basically allows for proper ring seating, as well as oil retention (proper lubrication)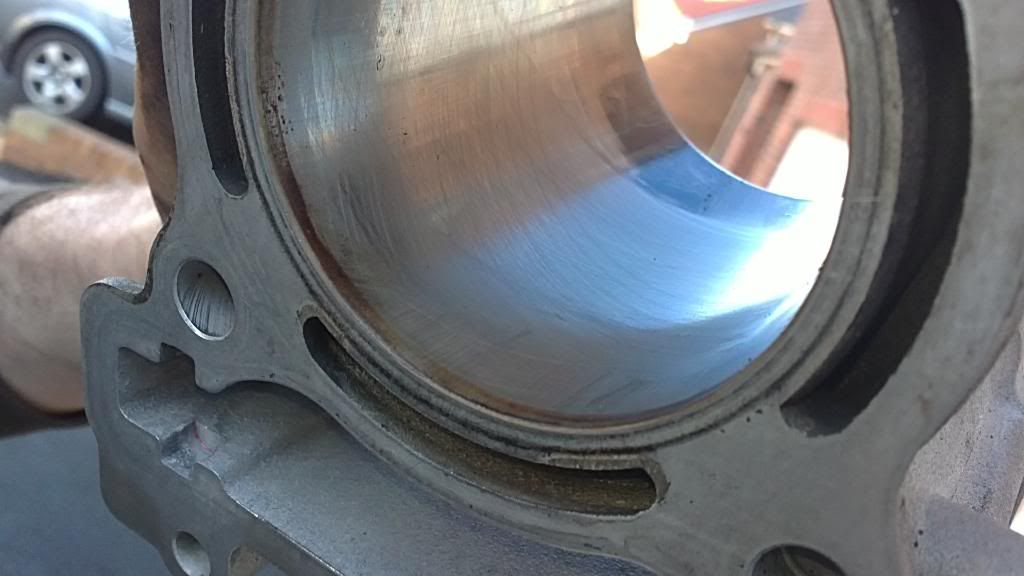 Now ensure proper seating and alignment of piston rings, the ring gaps ideally need to sit at 120 degrees to each other.
Place piston onto conrod, lubricate and insert the wrist pin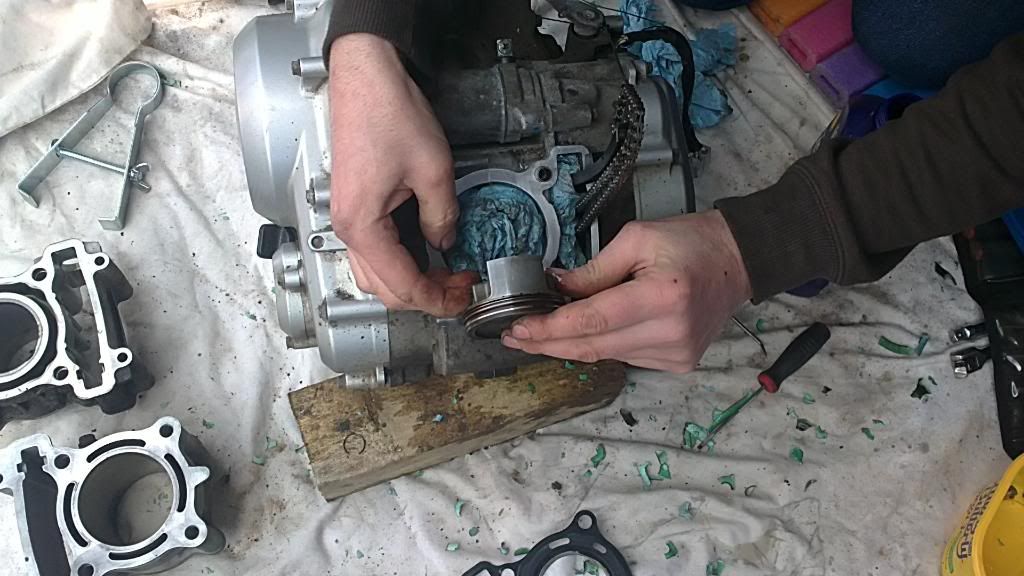 Fix wrist pin to attach piston head to piston, order more wrist pin clips than you need, this seems to ward off the evil spirits of pinging small items into the wild blue yonder.
Now place cylinder top on top of piston, ring compressors are required to ensure piston rings stay in required location and are compressed to allow entry into the cylinder. Rings are very fragile, especially oil control rings, lubricate them first and the ring compressor.
Ensure cam chain remains under tension and is fed through cylinder head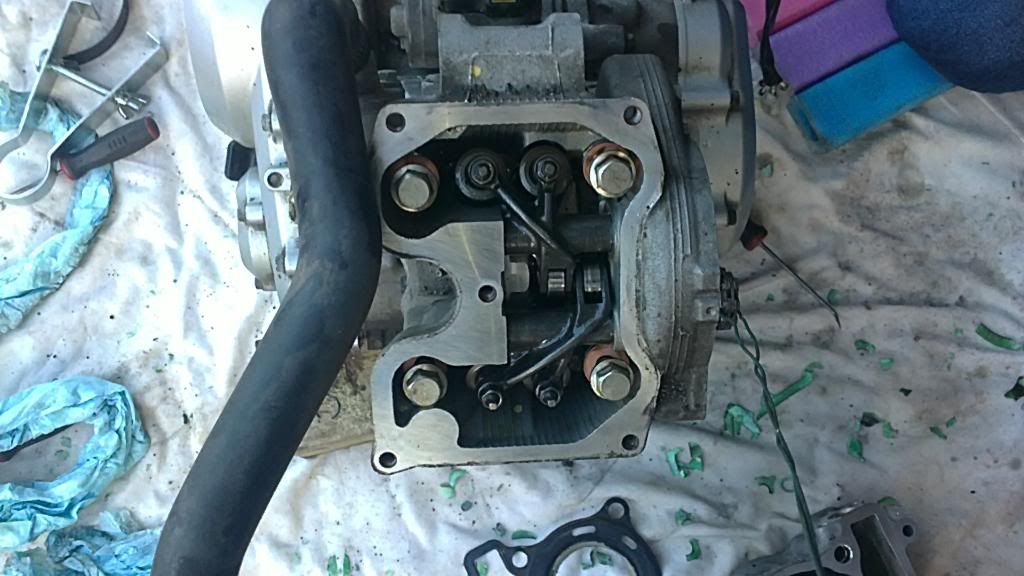 Fix cylinder head bolts
Sensitive content, not recommended for those under 18
Show Content
Reinsert cam sprocket and attach chain
Reattach cam chain tensioner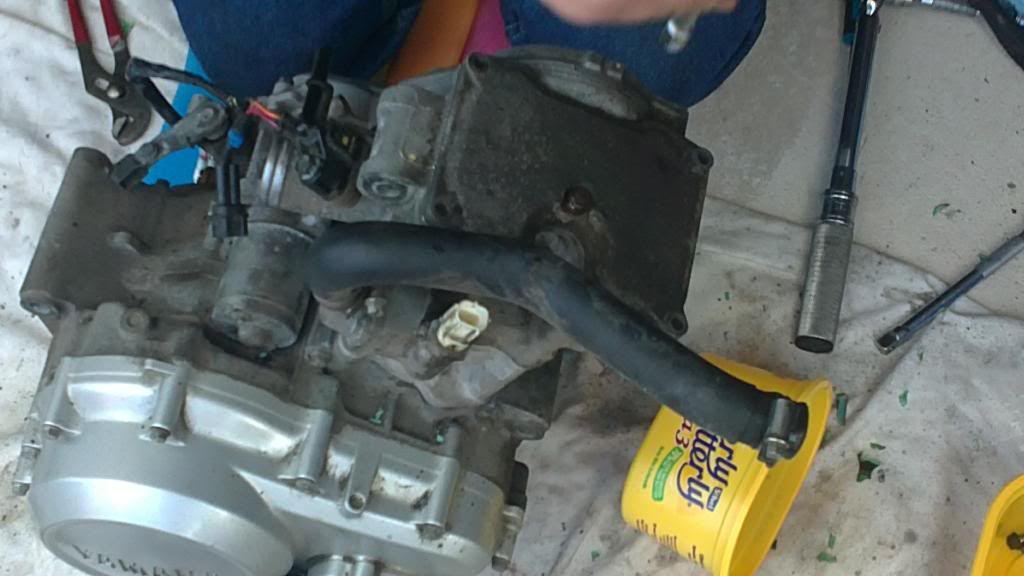 Reattach water pump
Replace rocker cover and engine rebuild is complete. Time to locate in chassis and fix engine mounts.
Reinstall radiator and expansion tank. Fill with new coolant, remove the bolt from the front of the cylinder, on filling this will begin to pour, when this happens reinstall bolt, keep filling. Filling is done via the radiator cap, not the expansion bottle.
Reinstall throttle body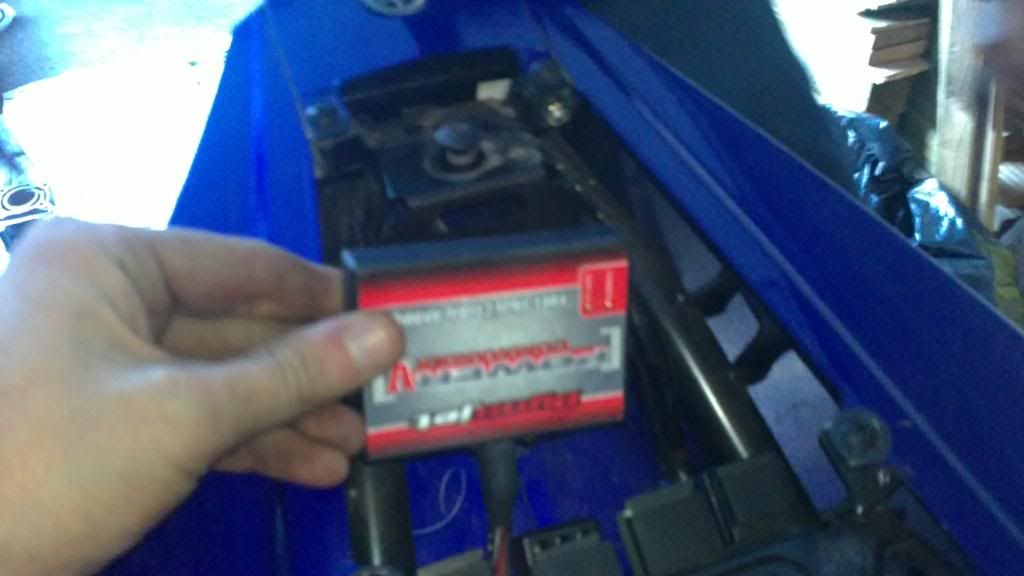 Remove pillion seat and install power commander or other module, feed through wiring harness to throttle body
Use PC5 wire tap to connect to the throttle position wire (yellow wire) and clip in control cables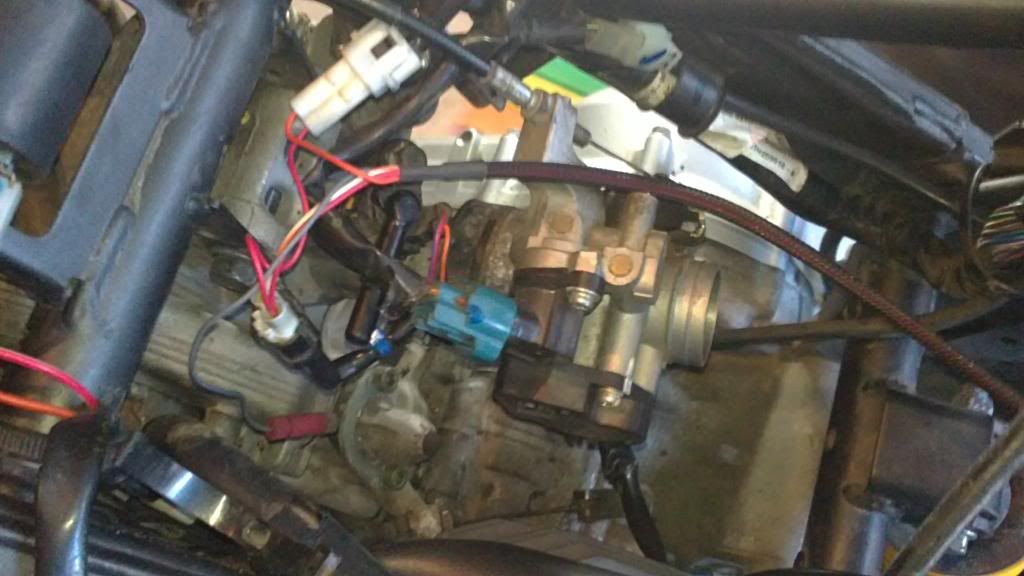 Further photo
Install exhaust, scorpion in this case to match the power commander map. Reattach fuel line but not tank. At this point the power commander should be attached to your laptop and software used to establish connectivity between power commander and bike, and that the wire tap is connected and the throttle position is being seen, move the throttle and you should see the value change. Now FIRE her up. Adjust idle¡Kthis will register on the software and should tally with rev counter. Once satisfied, shut off engine and begin servicing. This is to ensure any issues with the engine running are related only to the malossi kit installed. Firstly, reinstall air filter (only cleaned this time round) and fix tank in place. Remove scorpion for oil change. Check coolant level in radiator once it has cooled down.
Remove sump plug and let oil flow into container vessel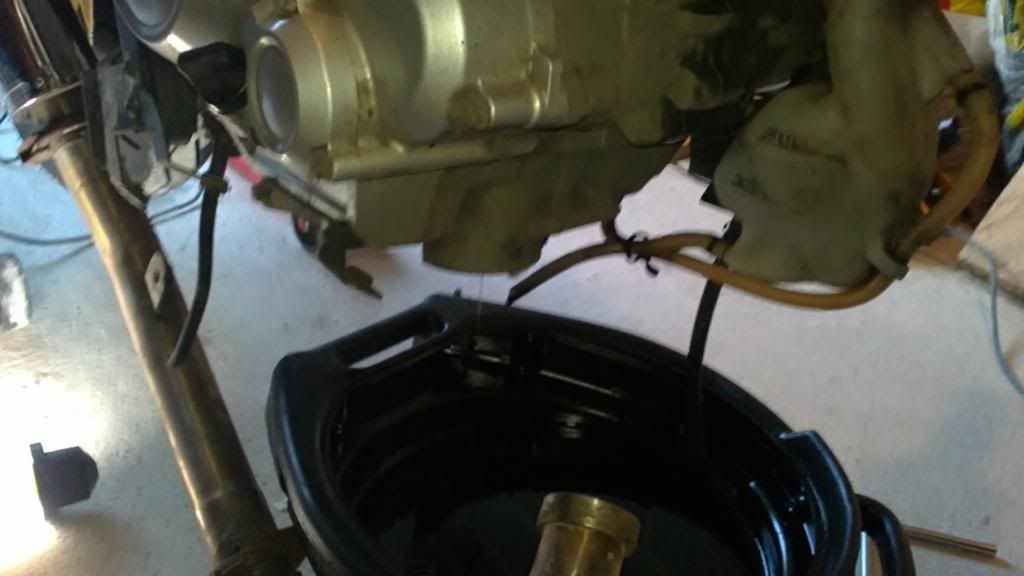 Remove filter and clean housing and insert new filter.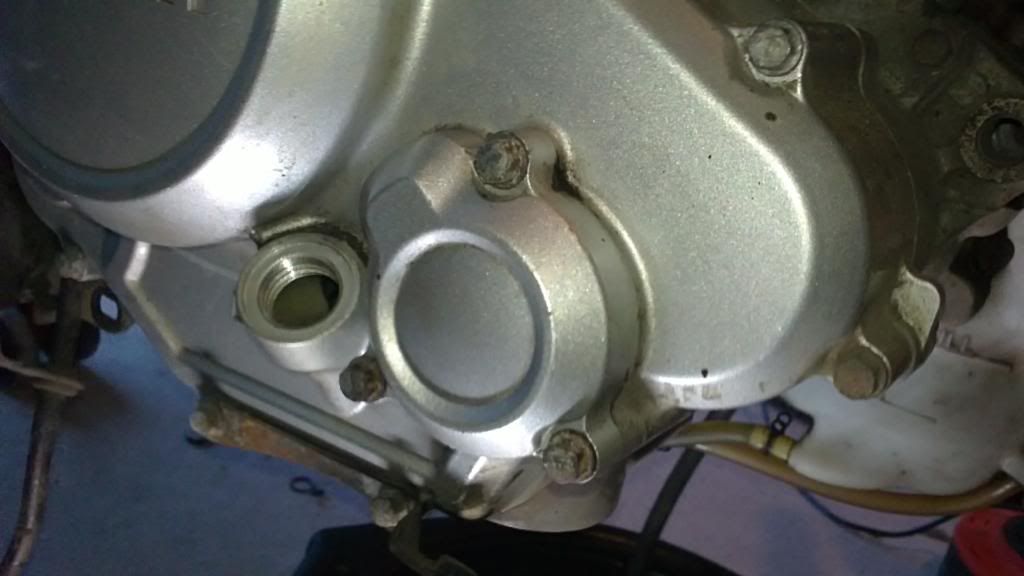 Clean sump plug and strainer and fix.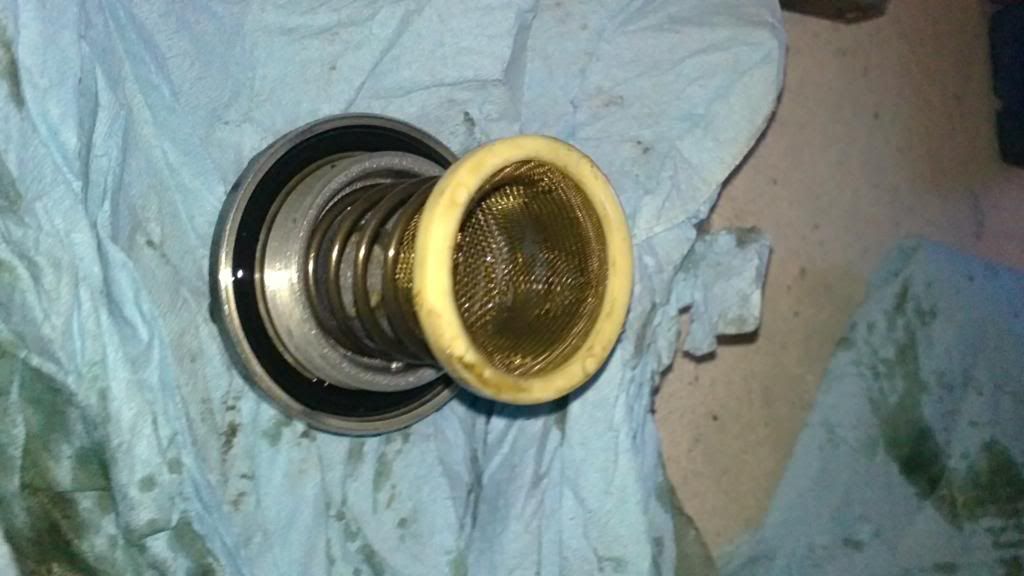 Refill with 1L of your finest lubricant, fix scorpion exhaust in place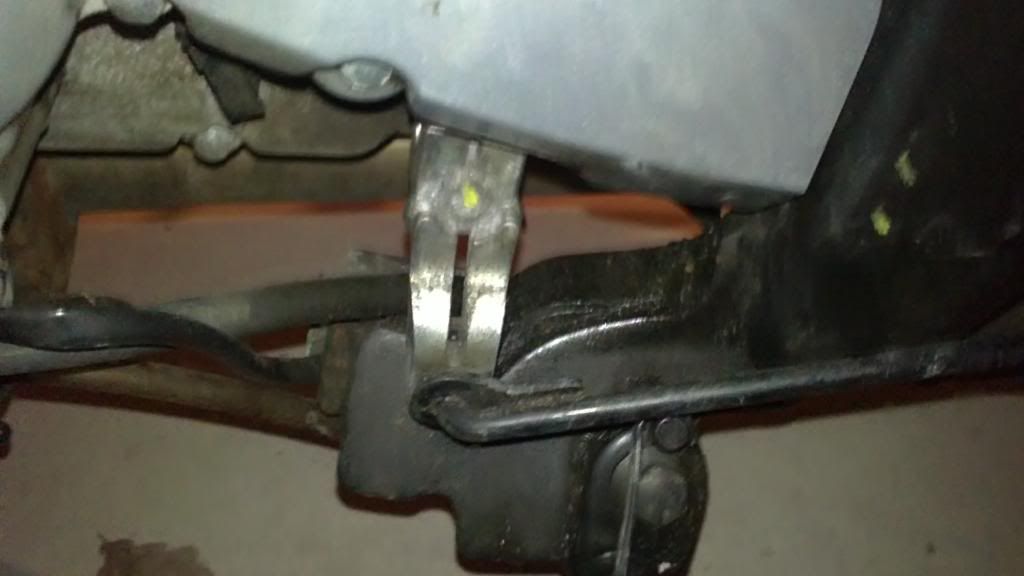 Lastly ensure gear pedal is fixed in correct position so that it does not rub on the fairing.
Replace fairings and THERE YOU HAVE IT..THE R182