Discussion Starter
·
#1
·
so as many of you know i want a seat cowl but cannot afford one, so i thought i would make my own.
Here is what you need to get you started :
Obviously a seat
Fibre glass set (large one)
Card
Painters tape or masking tape
Scissors
News paper
first thing i did was tape over the seat, i did this trice as i didnt want to risk ruining the seat
My next task was to make a shape out of cardboard as i wanted it to look different from the standard seat. once i had decided on a size and shape i taped this into place (the black lines are measurments and where it will start and end
)
Once i had finished taping it together it was time for the good part. Putting the fibre glass on
I cut it into strips (2 inches wide) as this was easier to put into place, making sure there was lots of the resin all over, so it would be tough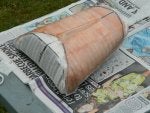 At the moment i am waiting for it to dry so i can put another layer on top.
This seat cowl that i am making is one that can be taken off and put on, depending on wether im taking a pilion so i am making a little ridge at the bottom so this can happen
will upload more as progress goes on