Discussion Starter
·
#1
·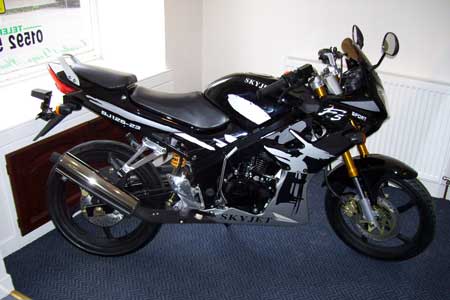 I have a friend who lives locally to me, and he rides a Chinese Skyjet 125.
And he is letting me try out some fairly crazy ideas on it
Poor fool probably thinks I ACTUALLY know what I am doing >
First of all, I removed the baffle from his exhaust, which was welded in.
This made a huge improvement to the sound.
I will upload photos / videos when I get a chance.
The second thing I did, was to re-wire (or make a solder bridge connection between some wires rather) so that he can have his headlights and sidelights on at the same time.
Interestingly, the chinese figured it would be a good idea to have only one OR the other on.
This was rather fiddly, as the cheap chinese wiring was rather... delicate.
Next, I want to open up his airbox and see what I can do in there, to perhaps get more air flowing through.
THEN, I need to learn how to tune a carb, and perhaps get this bike running a bit faster. At the very least, I would like to compensate for the exhaust / airbox mods I have done / have planned.
I will update as and when I think of new things to do to his bike