Discussion Starter
·
#1
·
So after suffering on a moped for a year i managed to persuade my parents to let me buy a new bigger bike.
Originally i was looking at honda cbr125's, but i couldnt find any decent ones for the right price, so then i looked at yamaha r125's, but they were a little to expensive for me.
So i settled for the Honda CBF 125.
Originally when i bought it I wanted to MOD the hell out of it, but soon i found there was a distinct lack of modding feasibility for it as no one seems to have changed anything.
So i slowly changed little things:
Wheel tape (6mm on the front and 10mm on the back)
heres a few images:
this is the moped I had
the little chav ...
6mm wheel tape both sides
No mirrors (usually have them on but they are scratched to buggery
)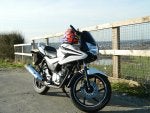 Carbon fibre wrap on rear mudguard
Carbon look tank pad
Just Side image from today (6/3/2012)
different size wheel tape and no L plates...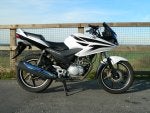 Will Put the different choices for exhausts i have as well as other little things i have done tonight...
have a green side light in that i installed today, but obvi havent seen it yet in daylight